A Billion Bright Stars
I was fortunate to spend the better part of my childhood on 32 acres of land in the middle of nowhere in Western New York. We had about 20 acres of woods and the rest was field and a lawn that took about 2 hours to mow on the riding lawn mower. This lawn, although a pain to take care of, was the perfect place to kick back and take a look at just about as many stars as you could imagine. We had a clear view of the Milky Way and on a couple of occasions got to see the Northern Lights. Now, I live in a city filled with stars, just not the kind I prefer to see. No offense to Joseph Gordon-Levitt, you are dashing and all, but I would trade that celebrity sighting for a night back in that back yard any day.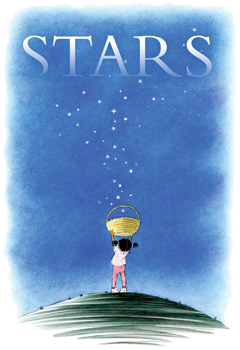 Bonfires and sing-a-longs were not reserved for a weekend camping trip or summer. Any given night of the week, any time of the year it wasn't snowing, we would be bundled up in old blankets, hooded sweatshirts, bags of marshmallows and hot dogs at the ready just in case. I loved that feeling of being so snug under a blanket and having the entire universe right above me.
Yesterday I had a ladies night with a friend. She is a former teacher and mother of two darling boys and, well, you know me. So of course we
had
to stop at the local bookstore we just happened to pass by. We got caught up on favorites and found some new books. I happened on a book called
Stars.
This book, written by Mary Lyn Ray and illustrated by Marla Frazee, brought back that feeling from the fireside. They capture the beauty and magic of stars, and that feeling of wonder, I had when I was living back home. My favorite part is the author is from New Hampshire, where "the night sky is very dark and the night stars are very bright." The illustrator, however, is from Pasadena, California where, "the night sky is filled with city lights, so the night stars are very faint." I can empathize with both! I was going to post every single page but even I know that is overkill. So here are some of the ones that drew me back...
And always make sure you have a place where you can go to find them. Happy star gazing!