A Laundry List
I had a long list of authors to visit in the last two weeks and only made it to one. Progress reports, parent-student conferences, my family visiting, and getting ready for the holiday kept me from attending. My crazy schedule also kept me away from blogging! If you haven't been following me on Twitter, definitely find me @Alice_EverAfter. It is much easier for me to post updates there when I don't have time to blog. Twitter has been a huge help in updating me on the latest and greatest events in the children's book world. Here are a few of the big updates:
* Publisher's Weekly announced the National Book Award winners last week. Thanhha Lai won for Young People's Literature for her book
Inside Out & Back Again.
* Neil Gaiman, author of
Coraline
and
The Graveyard Book
, was featured on
The Simpsons
tonight! I didn't watch but the literary world was all a-twitter.
* Anne Patchett, author of
Bel Canto
, opened an independent bookstore with a partner in Nashville. She was featured on NPR this week and I sat in my car in a parking lot for ten minutes to listen to her tell about the importance of the independent bookstore.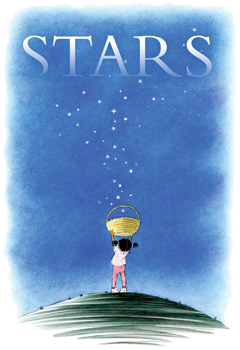 And finally, today I made it to my only "author" visit. It was actually an illustrator, Marla Frazee, two time Caldecott Honor Award winner and winner of numerous other awards for her beautiful work. The best part of this visit is the fact that the bookstore, Once Upon a Time Bookstore in Montrose, CA, is her local bookstore! She mentioned that when she first decided to become an illustrator for children's books this is where she visited. She knows the owner, her parents were in the audience, and the owner's daughter was the model for one of Frazee's characters in her version of
Hush Little Baby
. Joey is not the little girl featured in the book anymore, she is now a Junior in college and she was there too! We had a rare, rainy, grey day here in Los Angeles. It was the perfect background to snuggle up in this cozy bookstore with Frazee and her book family.
With all the craziness, I am looking forward to the Thanksgiving holiday. I have acquired a long list of books to read. I am finishing A Prince in Peril, I have a couple of books to read for a pre-teen girl book club I am leading, and I am dying to get my hands on
Wonderstruck
by Brian Selznick. Phew! Lots to blog about! Stay tuned!