Well folks, two years in a row now I have neglected my gift giving lists. My apologies! So here they are, my favorite books of 2016. If you still have gifts to buy for whatever holiday you celebrate, these are my top pics. I'm sort of organizing them by age but know that I think there is a little flexibility in those numbers.
Age 0 - 3
Indestructibles
:
Built for the way babies read
These short books introduce concepts with no words. But the best part? They are waterproof, tear resistant, portable (no hard bound covers here!), and meet safety standards. So when your little one puts that book in his or her mouth, like you know will happen, both book and baby come out happy in the end.
Age 3 - 7/Picture Books
Books by Carson Ellis
Carson Ellis has been an illustrator for some time but she has finally decided to start writing and we are all the better for it. Two of her books this year are among my favorites and kid-tested. My 5-year-olds read these over and over and over again.
Du Iz Tak?
This most recent Ellis release is in a different language - the language of the bugs. "Du iz tak?" one bug asks another as he sees a green plant sprout out of the ground? Kids willingly do some deep thinking to translate the story. Ellis provides the right amount of context clues for kids to have fun with this one. Added to the dialogue-based story are the intricate details in the illustrations. Watch carefully to look for bug reactions when the plant grows, gets attacked, and keeps growing. This book quickly found its place in our "Class Favorites" basket in the library.
Home
My heart was all a flutter when I first read this book.  A beautiful take on concept books, Ellis explores the wide real and imaginative world of homes. Igloos, apartments, castles, and even shoes are depicted in this book. A gorgeous introduction to diversity in homes without being didactic. Buy 12 of these and give them to everyone you know.
A Child of Books
by Oliver Jeffers and Sam Winston
This is the perfect book for your young budding book nerd. Jeffers and Winston tell a story of a young girl who knows the magic of stories. Stories have taken her to far off lands with great adventures. All she wants is to take her friends on those same adventures. The simple story line telling of the love of literature is matched with mixed media illustrations. Jeffers' characters are completely recognizable in his unique style. Added to this are illustrations created out of words from some of the best loved books. Tree branches are made out of lines from folktales and fables. Waves, monsters, buildings - all made from typed texts.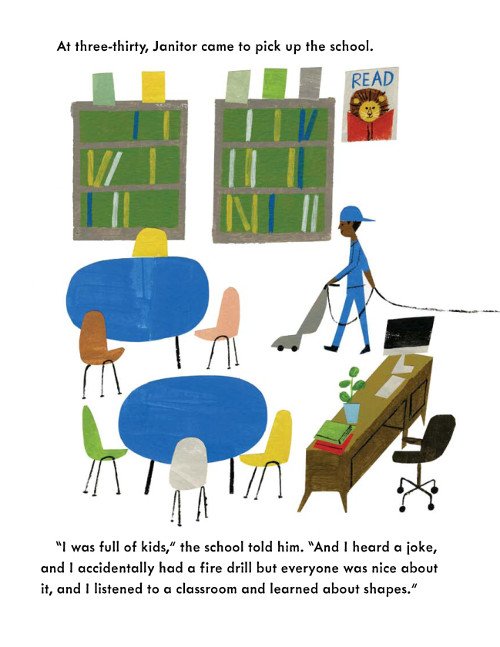 School's First Day of School
 by Adam Rex and Christian Robinson
We read this on the first day of school and my kiddos were in stitches. A new take on the first day of school story, School is the main character. He is feeling quite cozy with his bff, the school janitor. When he learns that the next day is the first day of school and he will be filled with kids, he feels a little anxious. Things are going well until his fire alarm accidentally goes off. The day takes a turn for the better when a little girl draws a picture of school. At the end of the day, he is ready to come back for day two!